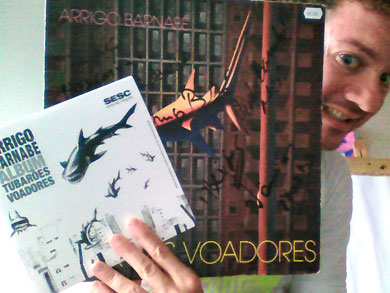 Sim, a Pipa Musical ainda existe. E veio legal, viu. Kreps e eu iniciamos o programa com uma música do disco Tubarões Voadores, do Arrigo Barnabé; e depois peguei a capa do mesmo disco e fui no SESC Belenzinho e peguei autógrafo de todo mundo que tocou nas músicas do disco. Emocionante. Fora isso, a sequência toda está uma delícia, vamos ouvir com amor.
Tubar̵es Voadores РArrigo Barnab̩ (c/ intro)
I can talk – 2 door cinema club
What's your name, what's your number – Andrea true connection
Jeopardy – The Greg Kinh Band
And the band played on – Vic Schoen and his Orchestra (c/ fala)
Dancing Tambourine – Leo Addec and his Orchestra (c/ fala)
Star – Jolie Cherrie
Apache – Jet Blacks
Peanut Dreams – Grand National
Fantasy – Black Box
Private Affair – The Virgins
Simon Says – Lafayette
Philly Dog – Lafayette (c/ fala por cima)
Skeleton Boy – Friendly Fires
Way Out – J.J. Fad
Blame it on the muzick – J.J. Fad (c/ encerramento)
She's a Study – T.V. Eyes
Bom, pra abrir o ano tá legal. Tentaremos ter mais programas neste ano – temos bastante ideias e músicas, claro. Continuaremos sem patrocício, pois o delicioso chopp do Henrique está de férias. Agradeço a audiência.