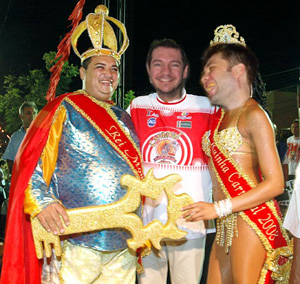 A parte 1 eu vou publicar depois porque esta está mais recente, fala-se mais sobre a festa popular mais famosa do mundo. A gente tava aqui em São Paulo e o Kreps, cabaço, nunca tinha ido num bloco de carnaval. Aí fomos depois do programa. Então antes do programa ficamos meio sem assunto. O Kreps trouxe uma pérola como há muito a Pipa não via. Antônio Marcos marcando presença aqui novamente. E tem até Caetano, pra abrasileirar bastante já que o clima é de festa popular. Argh.
Rendez Vous – Jean Michel Jarre (c/ intro)
Too late, too late – Mr. Hudson and the library
O homem da gravata florida – Jorge Benjor
Fur Lined – How to destroy angels
That's good – Devo
Citysong – Luscious Jackson
Oxigene – Jean Michel Jarre (c/ fala)
Quem dá mais – Antônio Marcos
Eu daria minha vida / Só vou gostar de quem gosta de mim – Bandinha Psicodélica
Bullet and a target – Citizen Cope
My stone baby – 311
Outro retrato – Caetano Veloso
Ghetto Love – Spinnerette
Durante todo o carnaval sorvemos o chopp maravilhoso do Henrique. Vocês deveriam provar. Assim como deveriam testar a sensação de participar de um bloco de carnaval. Vixe.