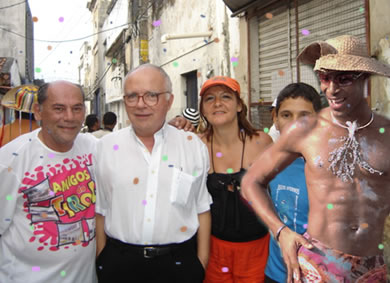 Neste carnaval resolvemos resgatar o brilho dos bailes de outrora em que se podia cantar as músicas sem malícia e ver as pessoas com roupas decentes nos salões ricamente decorados. Hoje em dia é tudo uma pouca-vergonha, as mulheres desfilam com papel higiênico grudado no sapato e os homens com caspa. As mulheres colocam um silicone torto e suas biquetas apontam cada uma pra um lado. É uma falta de noção irresponsável. Acompanhe o som de nosso bailão.
My Reverie – Orquestra do Esquivel (c/ intro)
Vesti Azul – Wilson Simonal
Too Much Information – Police
Fulcrum and Lever – The Faint
Johnny Keating Kombo (c/ fala por cima)
Headstrong – Trapt
6060-842 – B52
How Soon is Now – Everclear
Nega Bom Bom – Os Cascaveletes
Passarela – Nova Era (c/ fala por cima)
L.E.S. Artistes – Santogold
Repetition – Information Society
Jesus Build My Hotrod – Ministry
Richard Wolfe – Voila
Todos beberam muito chopp do Henrique, o fornecedor oficial do carnaval da Pipa Musical, au-au. Saibam que, de todos os casais formados durante este baile, até hoje 72% mantém a relação estável e monogâmica.